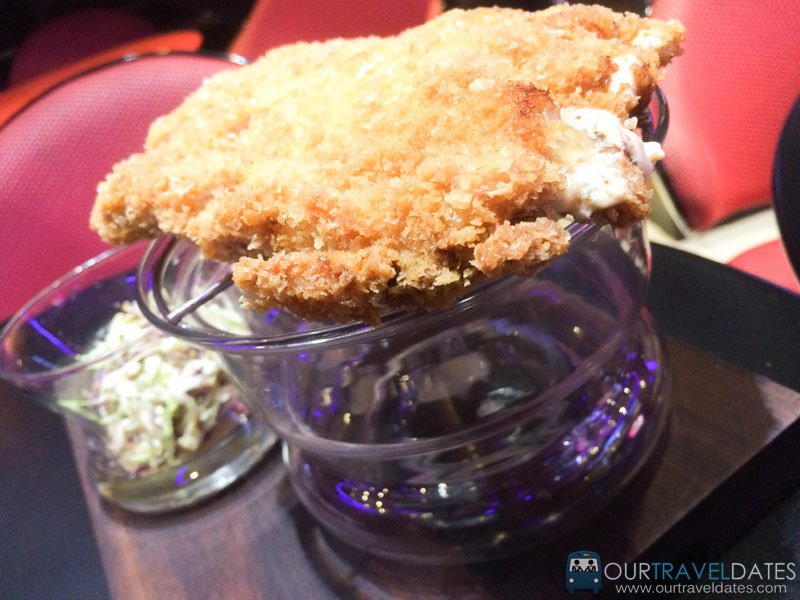 Japanese fusion never tasted super good… well, for a first timer!
We came here with some Zoman friends last night for the first time. We were greeted and seated as soon as we came in. We really like the decor and the ambiance of this restaurant. It looks very trendy and modern. Oh, and we were talking about Tama Yaki just yet, which is a Milk Tea / Takoyaki house managed by the 5th Taste owner too. Take a look!
Once you've stepped up the 2nd floor, you get to feel the transformation from a bubbly, fun-looking tea house, to a sophisticated restaurant. You may easily think the venue can be available for private events. Yes, this 60-seater restaurant can be closed for your future birthday celebrations!
We were given a chance to start our dinner meal with Tama Yaki's signature Takoyaki! We missed seeing those Katsuobushi toppings which is dried bonito flakes for quite some time (I think the last time I saw it was last year haha! At Karate Kid). They seem to move which makes it a little bit creepy. But of course it's not alive! They're just too light it moves from the heat and steam of your fresh Takoyaki serving!
For a fusion restaurant, this place does not skimp on portion sizes. In fact, everything is affordable! Our meal started with this Deconstructed Miso Soup. Deconstructed? It's simply the soup separated from its other ingredients: tofu, onion chives and pork floss.
Which means you'll get the chance to actually mix the soup with the amount you want, yourself!
This miso soup was almost perfectly made. The pork floss twist did it for us.
Now a perfect follow-up would be another starter that's crispy on the outside, and deliciously soft on the inside, the Tofu Steak! The tofu goodness feels like it's actually a tofu filling inside, a sure hit for John. Don't forget to munch in these reasonable pieces right after serving to maximize the crispy bite experience. Also, make sure you make that bite worthy by topping it with the shoestring potatoes!
And now for the scene-stealer, my favorite so far… Kani Salad Pizza! I'm a huge fan of Kani Salad that I always order one whenever I'm at a Japanese resto, and this one is no different now, I'll order this whenever I'm here from now on.
This mix of crispy crust with crabsticks (Kani), cucumber, carrot, mayo, and cheese came out as a surprise. I was actually assuming it would be messy to eat, but it wasn't! The dish is probably one of those in the menu that lives up to the statement of "once you start, you just can't stop". Oh, and those red and green bits are Nori and Chili powder. Put a hint for some mixed pizza goodness.
Another surprise on the menu that'll make you scratch your head at first is the 5th Taste Lasagna. But mind you, the Nori addition together with the Teriyaki bechamel on this traditional pasta layer with bolognese sauce and cheese is so flavorful. It certainly is the most flavor-packed pasta you'll ever taste here. Add that spicy garlic bread bite, and have that unique Japasta meal after Japizza.
Sushi time!
Cali Maki Furai, the California Maki made crispy was good. Self-explanatory. Sort of difficult to mess that up. Our 3rd favorite here. I prefer sashimi over maki, but the crispy edit made us wanting for more (we actually almost finished that entire plate!)
Smoked Mackerel Maki is another dish to try. It's that Tinapa goodness put into a Maki.
And then came the main entree of the night. Their twist for this dish was called out after nobody was able to guess that made it different from others.
Jalapeno Cream Cheese Onion Tonkatsu is fried Tonkatsu served with a special tonkatsu sauce and salad. The jalapeno sauce is so distinct I would stop munching on it not because I don't like it, but I'm just not a big fan of spicy foods. This one is no exemption. A different story goes for John as he was able to finish a slice in less than half a minute.
In the end, we can proudly say that our dinner meal was superb! With the ample amount that we ate (look at the pictures, the servings were generous!), we ended up feeling full and fulfilled with our Japanese cravings that I all showed on your big-smiling faces!
The Zomans for Tama Yaki / The 5th Taste
How we finished the experience? A good Blueberry Milk Tea with a bunch of Yogurt Bubble Pops! Tummy happy!
After going here for the first time, we just can't wait to come back! Thank you Zomato Philippines, especially Elaine for this recommendation. I think we'll have our Octopus Takoyaki and Kani Salad Pizza cravings real soon! We love the idea that there's a nearby Japanese restaurant who can really serve my Jafavorites, may it be twisted or pure authentic.
Here's the complete 5Th Taste Menu. Prices and items are subject to change without prior notice, oki?
Tama Yaki / The 5th Taste is located at the 2nd floor of Tama Yaki, 453 P. Guevarra St., San Juan, Metro Manila. For inquiries, call (02) 705 1856. You may also like their Facebook page at https://www.facebook.com/5thTastePh.