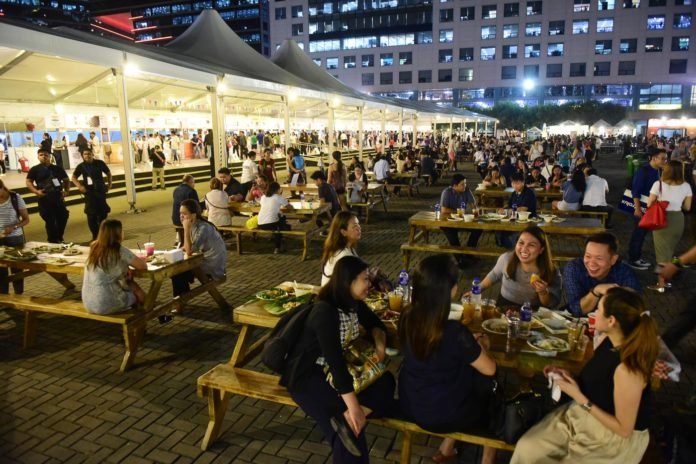 We both became a street foodie for a day!
It was our first time to attend an amazing food street event, with over 28 pop-up stalls. World Street Food Congress 2017 is the Asia's biggest street food celebration who has said to have become bigger and better, bringing in hawkers and foodies from across the globe.
The World Street Food Jamboree is for food aficionados which was held in MOA Concert Grounds from May 31 until June 4 and it has featured over 40 different international street food from:
Germany
Mexico
USA
Thailand
Japan
India
China
Taiwan
Malaysia
Vietnam
Indonesia
Singapore
Philippines
Live cooking demonstrations was held throughout the event, featuring dishes from Singapore, Malaysia, Indonesia, Vietnam, China and the Philippines as well. We had to drop by quick at the gym before heading to this exciting event simply because we know by ourselves that it's going to be a lot of eating, sweets included! It was amazing, anybody who loves food should definitely check it out. It was also pretty fun getting there on an electric scooter, try it out next time.
There were a lot of great food choices this year. But we can only eat so much. So, we have personally picked FIVE (5) dishes. Here they are:
Oyster Omelette (Top Right on photo above) – They have said it's been around since 1958 and is about to celebrate the making of this dish by next year. We became curious and for this visit, this has been agreed to be our we-are-curious-about food.
Tausug Chicken – This was John's personal choice. He said to have seen it a lot being featured on television but he never had the chance to try it out. Now he just did! Pyanggang grilled black chicken (with black grilled and spiced grated coconut) and Junay (spirced rice) with egg is originally a delicacy endemic to the Tausug from the Province of Sulu.
Nasi Lemak – This was my personal choice. I've tried an authentic version of this back in Singapore and I'm just too excited to try it out again here so it was an easy decision to get this out of the other 20+ stalls with great food!
Cereal Chicken – I'm a sucker for anything in SG so Cereal Chicken was an easy decision. This popular street food is being sold at Makansutra Gluttons Bay in Singapore as well as Makansutra Hawkers in SM Megamall! I've been craving for Cereal Prawns but having the cereal taste as exactly the same with this chicken variation ended up with me asking for more, hello SM Mega haha!
Martabak Manis – This well-loved snack, Martabak Manis, was made since 1965 and has started selling in a street stall. It is a wildly popular variation of sweet martabak or appam balik or the Chinese mee chang kueh. The perfect dessert to finish your gastronomic journey in this WSFC17 we both agreed! This comes in different flavors: Cheese, Chocolate, Red Velvet, Oreo, Green Tea KitKat, and Nutella Almond!
Overall, it was such a great experience having to try some great Asian street food there is. If only our tummies aren't that full yet, we could've tried even more. But I guess it's all worth going back again, hopefully next year!