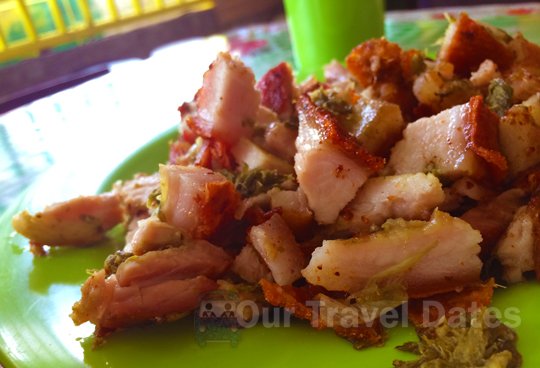 Are you a big fan of LIEMPO? If you haven't tried this one here in Cebu, then you might have not yet eaten the best liempo ever.
It isn't the first time we're eating here as of this writing. John, who is a Cebuano, have been eating this favorite dish since 2010 while it's just my second time, and still can't get enough of it.
I mean, who doesn't love grilled  liempo? John's a huge fan of Baliwag, while I enjoy Manok ni Sr. Pedro's liempo. But this version has a different twist: Balamban Liempo is prepared with special herbs, spices, and other secret ingredients before being grilled to perfection.  It is enjoyed best with Chili and Calamansi sauce, or simply enjoy its goodness without dipping it on anything!
Who doesn't want to eat that?
And you simply enjoy an almost perfect meal by pairing this…
…with this!
Puso, pronounced as Pu-so (as in Paso, Pot. Paso… Puso! Lol), is simply a hot steamed rice you will see hanging around markets in Cebu. It is prepared by inserting a certain amount of bigas in heart-shaped weaved coconut leaves and bringing them to a boil. This unique rice preparation is the "icing on top of the cake" for Balamban.
J & J Wants You To Know: Known as Hanging Rice, Puso was considered "food for the Gods" during pre-Spanish era.
This liempo outlet is owned and operated by Cebuano couple Jojo and Honey Vergara of Abucayan, town of Balamban, hence the name. They have recently celebrated their 5th year anniversary (as seen on their Facebook Page). So far, you can grab a bite just by roaming around N. Bacalso Avenue, Capitol, Salinas Drive, Tres De Abril, Talamban, and more. Their stores also offer a wide variety of lutong bahay during lunch and dinner.
The many branches of Balamban Liempo in Cebu.
While it is best enjoyed here in Cebu, Manila peeps do no need to travel all the way to experience this unique delicacy. Balamban Liempo has branches there too!
1st Floor Promenade Walkway, Greenhills Shopping Center, San Juan City
#78 Mother Ignacia St., Brgy. Laging Handa, QC
You may also visit the Facebook Page at https://www.facebook.com/OfficialBalambanLiempoPage. For franchise or joint venture inquiries, contact 0917-3088198 and look for Mr. Jojo Vergara.
So grab a bite and enjoy a good combination of crispiness and juiciness of this one-of-a-kind Cebu specialty. Definitely not the kind of food that fitness enthusiast will enjoy (and I'm sure John won't let me bring a bunch when we head back to Manila), but J & J approves!