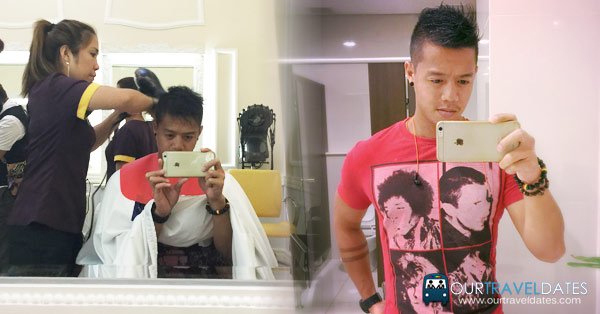 The idea of "royal pampering" is a light bulb turned on brightly for me.
My hair grows so fast that even a brief vacation at Boracay for a week made my hair grew significantly. Right after #Laboracay, I've decided to take on a hair retouch.
And I got even more than what I wanted.
Started operating its maiden branch last November 2014 in RCBC Building BGC (don't mistake this as the popular RCBC Makati), Margaret and Charles promises to pamper you like royalty and have you feeling & looking your grandest with each visit.
During my brief interview with its sole owner, Miss Baby Revilla, the salon is primarily focused on the privacy of their clients, so private that they even have an exclusive room for salon people who prefer a more "secured" treatment area. While they prioritize on the exclusivity, the ambiance of the salon still looks refreshing and inviting.
The concept of making it private has put the salon in its direction. In the end, they always make sure their clients will look like celebrities. But first things first, it's all about that Royal Treatment. Forget the idea that only models and celebs get treated like that.
Soon as you take your seat, you get to choose on a drink. Make sure you try their drip coffee. They'll prepare it for you like you're a king or a queen. A glass of red wine fits too!
I was introduced to their highly-recommended styling director Leo Pascual. I literally gave my trust to them and said they can style my hair to however they want it to look like. I'm usually getting a clean cut so I'm in for a surprise instead. I have to say too that it's not your typical salon who will just style you on how you want it, period. The interactivity you experience makes you feel that they really want what's best for your look. Leo's trained skills will make you trust his instict and try a maybe much better hairstyle fit for your overall style. You will be surprised how he can bring up an amazing look based on where you're going and what you do. As the styling progresses, one thing's for sure: you'll know they know what they're doing.
I have to say this by the way: that quick back massage therapy that was given to me while waiting for the hair treatment to set in. It was so good that I had to set an appointment for a home service massage an hour after. Great skills from the entire staff who are all experts with their craft, from the hair stylists to the therapists, and their make-up artists too!
After the pampering I got from Margaret & Charles, I can easily say that for a minimal addition in getting a premium care on your hair and body, get to enjoy the royal pampering experience, because it's what you deserve.
Looks good? Pay a visit and get pampered like a royalty today!
---
Swing by anytime from 10:00AM – 8:00PM at:
MARGARET & CHARLES SALON AND SPA
Ground Floor, RCBC Savings Bank Corporate Center,
26th and 25th Streets, Bonifacio Global City, Taguig
For inquiries, call (02)888-0423 or reach them thru email at margaretandcharlessalon [at] yahoo.com.