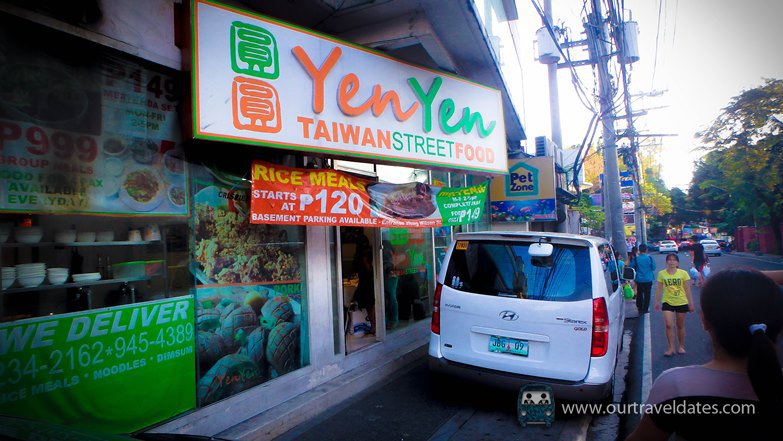 Small eats of a bunch of food in tiny-but-tasty proportions makes street eating a big thing. And it is no different in Taiwan.
Way before we got an invite for a Taiwanese foodie meetup, I honestly have no idea what we're up to. I even asked John if he's familiar with any of it, but we ended up coming to a place for a big surprise. Because of this experience, we were even able to know that there are at least 20 streets in Taipei dedicated to street eating, and makes us want to visit Taiwan next year.
This affordable restaurant located in Little Baguio started out pretty humble. According to one of the owners, Yen Yen only has a single food available to sell: Wanton Noodles. Until their loyal customers wanted more of what's cooking. So they added 5 dishes and now ended up with more than 25.
According to the co-owner, some great celebrities, including Marian Rivera, stops by to order takeout food from them. And we have just found the perfect reason: quality over price.
Today, Yen Yen Street Food offers a huge variety of signature Taiwanese dishes, some of which we absolutely have no idea until we were given a chance to have a taste of them right there!
Taipei Braised Beef Noodle Soup
This signature noodle soup is a staple at the city's street foods popular favorite. Friends who came from a vacation in Taiwan said it's almost impossible to have a bad beef noodle experience there, so this should come as no surprise. With its al dente noodles and beef shanks in vegetable and herbal soup, tasty noodles like this need not be expensive. (P180.00 – single, P240.00 – double)
Taiwan Special Fried Rice
This rice plate good for 2-3 people is a-must when you're ordering the fried dishes. Honestly, the generous amount for the double plate isn't even enough for me and John because of a dish that has become our favorite to eat again… later.
Stir-Fry Pork Kidney
Another signature Taiwan favorite is here. Cleaned from membranes with light criss-cross cuts on the surface, this pig kidney was boiled and re-washed in water before being stir-fried. Foods like this needs to be close to perfect when it comes to preparations, or else you'll definitely grasp that bad aftertaste. Good news: Yen Yen does preparations perfectly.
Taiwan Pork / Chicken Chop
Ooop! There it is! The crispy, tasty, juicy-on-the-inside pork or chicken (I personally like pork!) makes it undeniably our favorite food here at Yen Yen! Now all you have to do is combine them with this…
Specialty Sauces: Char Siu, Chili Sauce, and Wasabi Mayo
It's your choice. But Char Siu (Fork-Roast) became my favorite, I am now one of their customers who'd like to buy a bottle of it! The taste of it is a bit close but a bit better than Chatime's Chicken Chops. Oh yes they came out close making me realize in the end that Chatime is actually a TAIWANESE Milk Tea shop!
Taiwan Sate Chami
Sate Chami literally means Stir Fried Satay Noodles. The deep flavor of Sate makes this dish another one to try out. Maybe not for me because I'm not a big fan of noodles, but John said he's coming back to Yen Yen for this one too!
Hot & Spicy Pork Blood and Intestine
We had mixed reviews about this dish. John can taste Balbacua (a Filipino-Cebuano dish derived from "barbacoa" meaning hours of cooking), while I can easily feel the "Dinuguan" vibe in this. Also to think that I am not into super spicy food, Hot & Spicy Pork Blood and Intestine will surely challenge your mood to burn off some of your taste buds, Chiliheads!
Green Iced Tea
Completing the entire Taiwanese gastronomic experience is this sweet beverage which seems to be the perfect match for all the food we ate that day.
Special Dumpling
Don't underestimate that dim sum! And yes we had to put it to the last of the list. Their special dumpling is hand-made right at the restaurant by one of the owners! She was even out for a few minutes to make it before serving it right from the kitchen into the table.
While we weren't able to have a taste at most specialties, the owner teased us (and quite true) that the meal served makes us want to try the rest! As of this writing, me and John are already planning on coming back anytime this Christmas month. I already missed their chops combined with their home-made Char Siu sauce!
Yen Yen Taiwan Street Food is located at Wilson St. corner P. Guevarra St., 1500 San Juan. For deliveries, you may reach Two Any One (212-1212), or you may contact them directly for deliveries around their vicinity at (02)234-2162. Store opens at 11:00AM and closes at 11:00PM. Below is their complete menu.
A quick shoutout to Elaine and Team Zomato. Thank you for letting us try out Yen Yen!