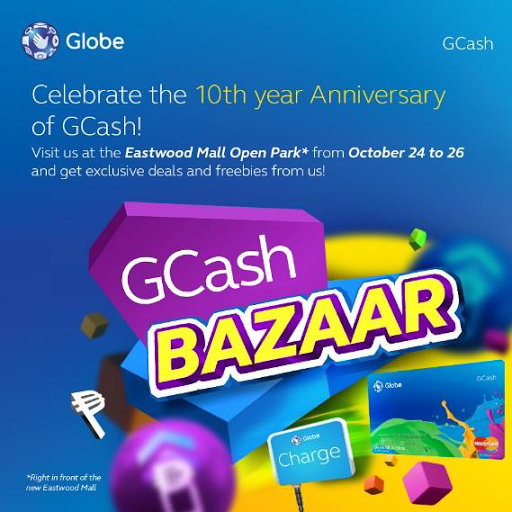 Planning on an early Christmas shopping? Come to the 2-day Globe GCash Bazaar this weekend!
Globe is celebrating GCash 10th Anniversary with the GCash Bazaar happening this 24-26 October at Eastwood Mall Open Park! With over 50 merchants (and booths selling everything from food, to fashion, to travel services, etc.), it will be an exciting shopping event for the whole family! With this event comes Globe Charge, the mobile credit card payment system. Globe Charge is a service for business owners that enables you to accept MasterCard and Visa card payments via smart phones and tablets. With this new payment system, business owners get to discover more payment options, welcome more customers, and generate more business without delay. No need to apply for a credit card terminal from bank!
And during this Bazaar happening over the weekend, all merchants will have Globe Charge terminals for us early Christmas shoppers!

Me and John will be there on the 24th, so shop with us! See you at the #GCashBazaar located right in front of the new Eastwood Mall! Happy shopping!