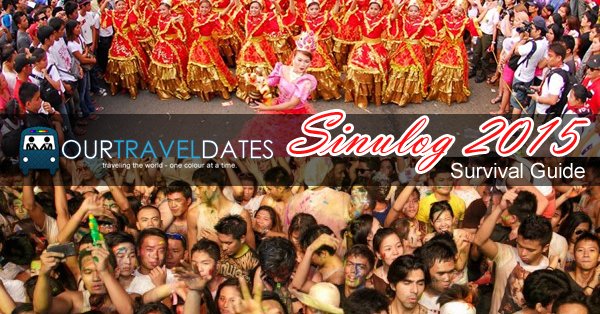 Pit Senyor!
Sinulog is just around the corner and a lot of people are looking forward to another lively year of dancing people on the huge streets of Cebu City. Sinulog Grand Mardi Gras is considered the Mother of all festivals here in the Philippines, and based from our experience last year, it's one hell of a street party! There will be millions of different people in the streets: crazy drunk party people, Sinulog contingents, street festival spectators, a huge bunch of foreign tourists, media, and of course… pickpockets ready to take advantage.
But all the anticipated fun might turn into a nightmare if you're not prepared for it. So as an experienced Sinulog "alumni" (or however you call them), here are Our Travel Dates' survival tips for those who prefer to choose the "Party Route".
(credits: Sinulog Foundation Inc./ Spectrum)
Preparations
Book Hotels Between September to November
Forget the August bookings. We strolled around the baseline looking for hotels where we can reserve for Sinulog, but most of them did not allow us to pay upfront because the prices are doubled (or sometimes tripled depending on the location), and won't open until these months fall. You may check out Agoda or Skyscanner for the best hotel deals to date. Here are some of the good selections that is so near the BASELINE (the Party Area), you can actually crawl back to your hotel drunk.
If you're still up for the long walk in case these hot hotels near the party area becomes fully-booked, click here for your UPDATED hotel choices in Cebu City courtesy of Agoda. Book now before they're all gone.
Never Book A Flight On Sinulog Weekend
Unless you're ready for a long long walk, book your flights a day before. For example, this 2015 the Sinulog weekend falls from January 17-18. Fly on the 16th but expect huge airfare costs. Fly on 14th-15 and you might catch a seat sale. Or you may also check out SkyScanner for the cheapest airfare deals.
Buy Your EDM / Party Tickets Early
Some events sell tickets cheaper for early bird takers. One of the biggest to come to Sinulog is the
#InvasionTour
and
LifeDance 2015, 
both confirmed as of November 12, 2015.
During The Festival Weekend
Make Sure You Get Enough Rest Before The Big Day
During the festival, which is set to happen on January 18 for the year 2015, you must be aware that most of the main roads will be closed for the parade. That means you'll be in for a VERY long walk. Plus it's better if you will be the last to get drunk just because you were well-rested.
Bring Lots Of Water
Because when we say very long walk, it means miles! So be sure to hydrate yourself once in a while. And again with the long walk…
Make Sure You're Ready To Say Goodbye To Your Shirt (And Shorts)
Because if you're going to cross the party route (which is super crazy fun!), you will encounter people shooting water guns with either colored paints, or beer! Also, as you walk around the area, expect people to paint your face, your clothes, your shorts, your hair, your everything! They won't stop until you look colorful (and messy)!
Wear Comfortable But Not-So-Expensive Footwear
Last year, we were only wearing sandals. Because at some point of the stampede party route evening, you might encounter some tiny little spaces which is actually a… canal! So if you can actually wear a surplus kind of shoes that won't wreck during the day, please do. Don't wear slippers. You might step on broken bottles or canned drinks on your way which might hurt your feet. If that happens, checkmate.
Party Route or Festival Route, Eat Your Breakfast!
Because other than a long rest from the pre-festival parties, you need to make sure your body is nourished as you could drown yourself from alcohol (if you're taking the party route).
Expect The Weather To Be Sunny, Prepare Sunblock
Sunblock lotion, hats, sunglasses: They will be your most important tools of the day. If it rains, the it pours. Everyone in the party route would be wet & wild in beers and paints anyway.
Taking Photos? Bring Water-Proof Accessories
One of the most important to-do. Buy a cheap water-proof bag which will be sold around the area for a measly P80-100. They're an absolute money-and-gadget-savior. And bring only the important gadgets. Our friends lost a bunch of phones they didn't even use during the day. Enjoy the party, but stay vigilant. Oh, and forget the alcohol and towels, you all are entitled to walk around the city looking dirty and all, nobody cares because everyone's a mess too!
Party Hard, Harder, Then WILDEST FREAKIN' CRAZY YEAH!
You literally have all day to get drunk, but systematize or you'll mess up the entire Sinulog party experience and end up "enjoying" you swelling hangovers at the comfort of the hotel bed. The key is to drink posh on Friday, get a li'l bit tipsy on Saturday, and whoa-lets-call-all-the-freaking-uwak on Sunday. Follow it and you're good to go.
Para sulit ika nga.
With A Huge Group? Bring Enough Alcohol That Will Last For 6 Hours
Because once 5PM falls and you're trapped on the crowded baseline / Mango / Llorente area, you're basically on a dead end and should be ready to walk somewhere else like an EDM event or a concert stage. Based on our experience, we easily ran out of drinks around 4, and by that you will have to fall in a very long line… inside a convenience store where most popular alcohol drinks are already out of stock, and people are just grabbing whatever, even if it means getting that 171 bottle…
Lastly? Bawal Ang Pikon.
Sinulog is not a place for thin-skinned people. This is a handy tip for those who are very sensitive to pushing. You will encounter stampedes especially in the baseline in the late afternoon or evening. If ever you get pushed or stepped on, follow Elsa. Let it go.
P.S.
As a handy tip given by John's brother JP, no matter how hardcore your are when it comes to partying, never forget the fact that you came for 
Sinulog: a festival celebration for Senyor Santo Nino
.
Make time to pay respect and attend the Novena Mass at least once at the Basilica every 5:30PM.
Ready to take on the party route? See you this January for the biggest festival of the year!
We're ready…
Let's get drunk, baby!